<Introduction>
"Fujisanmesse" is a multipurpose exhibition hall located at the foot of Mt. Fuji, Japan's highest peak.
Mt. Fuji is famous the world over for its beautiful, perfectly symmetrical conical shape. In addition, there are lakes, virgin forests, and various alpine plants located all around its extensive base. Visitors come to the mountain for various recreational purposes; in summer, activities such as camping, hiking, and fishing are popular, whereas skating and skiing are the favorites in winter. Of course, many people also come to climb the peak.
This sacred mountain has captivated many people since ancient times. UNESCO recognized the value: therefore, Mt. Fuji was added to the World Heritage List as a Cultural Site in 2013.
"Fujisanmesse" can be conveniently accessed from big cities such as Tokyo, Nagoya, and Osaka through the Tokaido Shinkansen. You can come here directly without having to change trains.
Exhibition Hall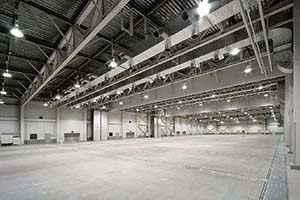 The hall can be divided into up to three units (designated as Halls 1, 2, and 3) by sliding walls and you can therefore use either quarter, half, or three-quarters of the area or even the entire area if you so wish. The hall serves many uses: it is suitable not only for PR events such as trade shows, industrial exhibitions, and automobile shows, but also for cultural events such as symposiums.
<Exhbition space>
Whole area (Halls 1, 2 & 3) 3,840 ㎡ (40m×96m)
Three-quarter (Halls 1 & 2) 2,880 ㎡ (40m×72m)
One-half (Halls 1 or 2 & 3) 1,920 ㎡ (40m×48 m)
One-quarter (Halls 2 or 3) 960 ㎡ (40m×24m)

<Ceiling height>
9 to 12 m (Height of the sliding wall :8m)
Carrying in and out Yard
Meeting Room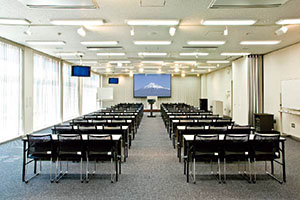 The Meeting Room is suitable for holding small-scale trade shows and exhibitions. It can also be conveniently used as a seminar room and as a venue for business discussions with customers, briefings, and workshops while the main exhibition is in progress at the Exhibition Hall, thereby facilitating a multi-faceted approach to the event.
<Meeting Area>
270㎡(10m×27m) Can be divided into three units
<Maximum Capacity>
180 persons
Outside Area
Entrance Lobby
Open Space
Access to the 'Fujisanmesse'
Only a 7-minute walk from the Shin-Fuji Station, it also has convenient traffic access to major roads. In addition, there is convenient access from the international airports near the big cities.
■ By the Tokaido Shinkansen
From Tokyo :74 minutes
From Nagoya :72 minutes
From Osaka :141 minutes
→ 7-minute walk from Shin-Fuji Station
■ By car via Tomei Expressway
From Tokyo :85 minutes
From Nagoya :144 minutes
→ 15-minute drive from Tomei-Fuji IC
■ From Mt. Fuji Shizuoka Airport
By car :70 minutes
By public transport :80 minutes
Contact Us
If you prefer, you are welcome to correspond with us in English.
E-mail: info@fujisanmesse.com
TEL: +81 ( 0 ) 545-65-6000
We will provide high-quality services in the management and organizing of international conferences, exhibitions, and other events held in Shizuoka prefecture and especially in venues around Fuji city. In addition, since we also have a network of experienced and capable staff, we can procure services on demand in the areas of interpretation, translation, and print production.
Tourist Information